Call Our Orlando Team for Your Baseboard Installation Needs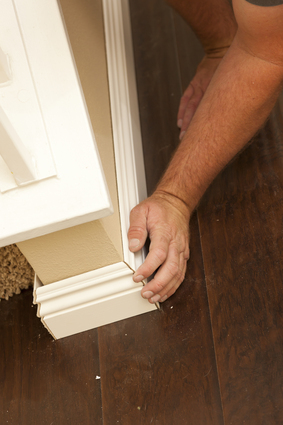 Baseboard is one of those underappreciated installations. It brings your room together, adds a crisp, clean touch to the place, and generally makes things look complete and attractive. However, you are likely to overlook the qualities that baseboard brings to your Orlando home – until it gets in the kind of shape that can no longer provide those qualities.
If your old baseboard has worn down to the point that it is more of an eyesore than anything, you need to call A Painter's Touch. Our Orlando team is more than an experienced painting company. We are also experts at installing new baseboard, and you can count on us to your home looking its best in no time thanks to the work we offer.
Get Your Old Home Looking like New with Quality Baseboards
Your home is an important investment, and more than that, it's the place where you and your loved ones are bound to spend the majority of your days. So, you need to take steps to ensure your home always looks its best. After all, a beautiful home is a valuable home as well as a place where you'll be happy to spend so much of your time.
Since worn-out baseboards can greatly bring down the overall look of your Orlando home, you'll want to get right on it when it comes time to replace them. That's' why you need to call for our baseboard installation work when need be. We promise to offer quality work in a timely manner so that your house looks its best once more in no time at all.
Quality Work from Our Dependable Orlando Team
When you decide it's time to replace your old baseboards, you're going to want to commit to accepting nothing less than the best quality of work. For that kind of work, you need to get your baseboard installation from the experienced pros at A Painter's Touch.
We make it our mission to offer the best quality of work for all of the home improvement services we offer. Whether you're in the market for a baseboard installation, an interior painting , or any other related work, you can depend on us to get your Orlando area home looking its very best thanks to our quality guaranteed.
If you would like an estimate for crown molding services in Orlando, please call 407-218-0625 or complete our online request form.
Recent Articles
Preparation Is Key to Interior Painting Success - You have decided to conduct an interior painting project. You know what colors and paints you want to use. All that is left is to apply the paint to the walls, and the effort will be a resounding success. Many Orlando property owners have suffered from the same misconception. … Read More
How to Choose the Best Paint & Colors for Your Exterior Painting Project - When you paint the outside of your Orlando home, you want the results to look as good as possible and to last for a long time. Nothing is worse than having to repaint your home because you are disappointed with the end results, except for maybe having to redo the project because the paint faded, chipped, or peeled prematurely. The best way to avoid these pitfalls is to hire a professional painting contractor for help. … Read More