Pool Enclosure Screen Cleaning From House Washing Pros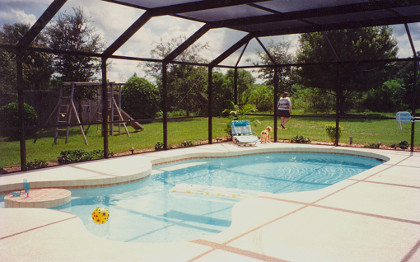 Here at A Painter's Touch LLC, our team of professional painting contractors understand the importance of keeping the exterior areas of your home clean, and how that can feel like a full time job at times. Keeping the exterior of your property can be especially difficult here in South Florida, what with the constant barrage of rain we tend to get and the high humidity. With the constant warm temperatures in this part of the country, and the excess moisture that always seems to be around, one of the most common issues that homeowners in the area face is the growth of mold and mildew on the exterior surfaces of your home. There is no surface around your home that is immune to this, unfortunately, not even your pool enclosure screening. If your pool enclosure screens have started to show signs of mold and mildew growth recently, and you are looking for an experienced professional to help you get them looking like new once again, our team of pool enclosure screen cleaning professionals here at A Painter's Touch LLC are just the team to call.
Here at A Painter's Touch LLC, our team of experienced professionals understand what a bit investment your pool enclosure space is to your home, and we are ready to do everything we can to help you keep it free and clear of any damaging mold or mildew and keep it looking its best for a long time to come. If you have any questions about our high quality pool enclosure screen cleaning services, or if you would like to schedule an appointment for consultation with one of our skilled specialists, give us a call today. Our team of experts are always standing by and would be more than happy to assist you in any way we can.
Pool Enclosure Screen Cleaning Pros
Here at A Painter's Touch LLC, our team of pressure washing experts will be able to help you get the high quality clean you need for your home's pool enclosure screening, no matter how much mold or mildew may have started growing in recent months. No matter how bad your pool enclosure screen might appear, our team of experienced professionals can help you get it looking like new once again so that you and your family can go back to enjoying your enclosed pool area. All of our work comes with our personal guarantee of your complete satisfaction and that your enclosure area itself won't suffer any damage in the course of your cleaning. We understand what a big investment your pool enclosure is for your home and the level of trust you are placing in us to handle its care. As such, we make it our mission to ensure you always get the high quality clean you need to keep your pool enclosure looking its best.
If you are looking for a house washing professional in Orlando or the surrounding area, give us a call today at 407-218-0625 or fill out our online request form.
Recent Articles
Preparation Is Key to Interior Painting Success - You have decided to conduct an interior painting project. You know what colors and paints you want to use. All that is left is to apply the paint to the walls, and the effort will be a resounding success. Many Orlando property owners have suffered from the same misconception. … Read More
How to Choose the Best Paint & Colors for Your Exterior Painting Project - When you paint the outside of your Orlando home, you want the results to look as good as possible and to last for a long time. Nothing is worse than having to repaint your home because you are disappointed with the end results, except for maybe having to redo the project because the paint faded, chipped, or peeled prematurely. The best way to avoid these pitfalls is to hire a professional painting contractor for help. … Read More