Orange City's Number One Painting Contractors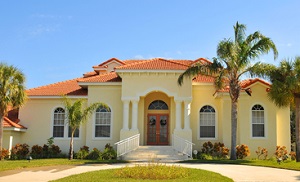 A great paint job is a crucial part of any home; it keeps the resale value up, keeps your home as attractive as possible, and keeps you as comfortable as possible inside your home. At A Painter's Touch, LLC, our painting contractors know how important your Orange City home is to you and your family, which is why we're dedicated to providing the absolute best painting services possible to all of our clients. We also know that there's no more valuable commodity to our business than the homeowners we work with, so we also strive to provide premier quality customer service.
We offer a wide array of services, so whether you need interior painting, exterior painting, or even driveway or sidewalk cleaning, we'll be ready to make sure you get expert services from our pros. All of the projects we work on are planned in collaboration with our customers, so we're able to completely customize our services based on your goals, your budget, and your time frame. No matter what, we always guarantee your satisfaction with our work. Give us a call today to ask any questions you have about the services we provide, or to schedule your appointment, and we'll be looking forward to working with you!
Exterior Painting Excellence For Orange City Homes
Over time, the sun, rain, and other elements can ruin your Orange City home's exterior paint job, leaving it looking dull and unsightly. Your home is a reflection of yourself, so if it sports an unsightly look, it could project a negative image of you to the neighborhood. Fortunately, you can have years of damage undone in no time by calling the painting contractors at A Painter's Touch, LLC for an exterior painting service. Our experienced painters are dedicated to one thing only: providing top-quality painting services that will get your home looking its absolute best. So, by choosing us to be your exterior painters, you can be sure that your home will look fantastic after just one service with us!
Orange City Chooses Us For Interior Painting
Interior painting is what bridges the gap between your current house and your dream home. In other words, it's about finishing touches and personalizing your space. That's what makes it that much more important to let a professional address this service for you because the results need to be nearly perfect. At A Painter's Touch, LLC, we're the Orange City painting contractors that homeowners have come to trust because we take the time to get the job done right. With our team, it's always quality over quantity.
We're committed to making certain that your interior painting job is executed with the skill and precision necessary to ensure your total satisfaction. Anything less goes against our work ethic and would compromise our standards and impeccable reputation. Our interior painters take great pride in all they do and that includes making the inside of your home look just the way you want. From our expert color advice to the final cleanup after the paint application, your satisfaction is our guarantee. So don't put off getting an interior painting service from us– it will help complete the look and feel of your home sweet home.
If you are looking for a professional Orange City painting contractor then please call 407-218-0625 or complete our online request form.