Dock Cleaning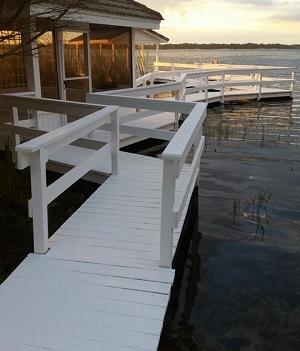 Keeping a dock clean is an immensely difficult yet important task. First, the appearance of your dock has an immense impact on how you use and enjoy the area. Second, an unclean dock can actually present a safety hazard, especially if biogrowth accumulates to the extent that the area is slippery. At A Painter's Touch, LLC, our painting contractors and exterior cleaning specialists are here to help you keep your dock looking its absolute best. We are the company locals trust for dock cleaning in Orland, FL and the surrounding areas.
In every service that we provide, be it to a local family or business, our property cleaning experts treat our efforts the same as if we were performing it on our home. In this way, we can always guarantee the best possible results. When you hire us to clean your dock, we will bring this dedication to excellence to task for you.
Call A Painter's Touch, LLC today if you need to hire a professional power washing contractor to clean your dock in Orlando. Our polite and knowledgeable staff would be happy to take your call, to answer any questions that you may have, and to schedule your appointment today.
Wood Dock Cleaning in Orlando & Nearby
Your dock is one of the most susceptible portions of your property to the elements. As such, it is nearly always being dirty or stained in some way. The ever-present moisture causes a great deal of biological growth on the area. The resulting consequences can be extremely unsightly and unsafe.
At A Painter's Touch, LLC, our Orlando dock cleaning contractors can blast away years of stains and biogrowth from the surface of your wood dock. The results will be fantastically rewarding. You and your family are guaranteed to be completely satisfied with the results.
Cleaning Your Dock Enhances Its Use
If you allow your dock to deteriorate to the extent that it is extremely dirty and unsightly, you will not be able to get the most enjoyment out of it. Having a dock on your property is a luxury that should not be taken for granted.
Hiring our professionals to routinely maintain and pressure wash your dock is the best way to ensure that you and your family always get the most enjoyment out of it. You will be able to take pride in its state of cleanliness and appearance. Better yet, your dock will be safer to use. We can help develop the perfect cleaning schedule for you. As always, you complete and total satisfaction will be our first and only priority.
If you would like an estimate for dock cleaning in Orlando or the surrounding areas, please call 407-218-0625 or complete our online request form.
Recent Articles
Preparation Is Key to Interior Painting Success - You have decided to conduct an interior painting project. You know what colors and paints you want to use. All that is left is to apply the paint to the walls, and the effort will be a resounding success. Many Orlando property owners have suffered from the same misconception. … Read More
How to Choose the Best Paint & Colors for Your Exterior Painting Project - When you paint the outside of your Orlando home, you want the results to look as good as possible and to last for a long time. Nothing is worse than having to repaint your home because you are disappointed with the end results, except for maybe having to redo the project because the paint faded, chipped, or peeled prematurely. The best way to avoid these pitfalls is to hire a professional painting contractor for help. … Read More