Professional Exterior Painting Services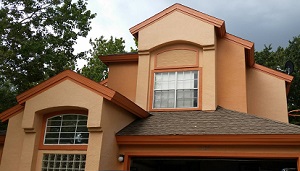 At A Painter's Touch, LLC, our painting contractors believe that every local family deserves to be able to take pride in the look and feel of its home. To this end, we provide the local community with the highest quality services possible for exterior painting in Orlando and the surrounding areas. Our house painters are here to help you achieve all of your property beautification goals.
We understand how important your residence is to you and your family. When you hire our house painters, we will treat your home as if it is our own. In this way, we can ensure that we achieve the best looking and longest lasting results. All the while, our team will work its hardest to achieve your complete and total satisfaction.
Call A Painter's Touch, LLC today if you are planning to repaint the exterior of your Orlando home. Our polite staff would be happy to take your call and to answer any questions that you may have about the effort. We can schedule your consultation today.
Highest Quality Exterior Painting Materials
One of the unique aspects of an exterior painting project is that the end results must be able to stand up to years of exposure to the elements. For this reason, it is absolutely imperative that you choose the best paints for the job. Otherwise, the beautiful results that you achieve can be frustratingly short-lived.
At A Painter's Touch, LLC, our Orlando exterior painting contractors have the knowledge necessary to help you choose the best paints for the job. With our assistance, you can feel confident knowing that your exterior painting project will be a resounding rewarding success.
Expert Preparation for Exterior Painting in Orlando
The true key to achieving the best results during your exterior painting project is to properly prepare every surface to be painted. Our team will pressure wash every surface in order to ensure the best possible paint adhesion. We will also repair and make uniform an irregular surface.
By following a meticulous approach during all preparatory steps, our exterior painting contractors can ensure that we achieve the best possible results. Again, all of our efforts are focused on beautifying and protecting your home for the longest time period possible.
Exterior Painting Services Customized to Your Family
In the end, you and your family's satisfaction is the most important aspect of the project. As such, our team will customize all of our house painting services to achieve your unique goals. Our house painters will constantly stay attuned to your inputs and feedback. In this way, we can make certain that your vision for you home becomes a reality.
If you would like an estimate for exterior painting in Orlando or the surrounding areas, please call 407-218-0625 or complete our online request form.
Recent Articles
Preparation Is Key to Interior Painting Success - You have decided to conduct an interior painting project. You know what colors and paints you want to use. All that is left is to apply the paint to the walls, and the effort will be a resounding success. Many Orlando property owners have suffered from the same misconception. … Read More
How to Choose the Best Paint & Colors for Your Exterior Painting Project - When you paint the outside of your Orlando home, you want the results to look as good as possible and to last for a long time. Nothing is worse than having to repaint your home because you are disappointed with the end results, except for maybe having to redo the project because the paint faded, chipped, or peeled prematurely. The best way to avoid these pitfalls is to hire a professional painting contractor for help. … Read More