Driveway Cleaning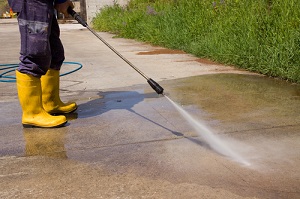 As a homeowner, you understand how important it is to keep your property looking its best. One of the most difficult portions of your home to keep well maintained is your driveway. Years of neglect can cause serious staining that is extremely difficult to lift from the surface. At A Painter's Touch, LLC, our pressure washing contractors are here to help you with professional driveway cleaning in Orlando.
In every service that we provide, our main goal is to achieve the complete and total satisfaction of our customer. We will bring this dedication to excellence to task for you during your driveway cleaning project. Through our high quality results, we seek to convey the fact that you can trust our team with all your present and future exterior cleaning and painting service needs.
If your driveway is old, stained, and unsightly, call A Painter's Touch, LLC today. Our Orlando pressure washing contractors are ready to assist you in any way that we can. Our staff would be happy to answer any and all of your questions. We can schedule your appointment today.
Driveway Cleaning Customized to Your Needs
Driveways are generally made out of concrete. Concrete is a porous and therefore permeable surface. As such, dirt, rust, biogrowth, hydraulic fluids, oil, and all number of surface contaminants can embed deep within the surface of your driveway. Conventional cleaning methods are simply not effective against years of exposure.
When you hire our professionals to clean your driveway, we will customize our pressure washing method to the particular stains that are present. By doing so, we will be able to lift even the most stubborn stains from the surface of your driveway. In the end, this area of your home will look absolutely spectacular in comparison.
Driveway Cleaning Boosts Curb Appeal
As the major entryway to your home, your driveway has a dramatic impact on the look and feel of your property. As such, if your driveway is unsightly, your invited friends, guests, and neighbors will form a poor first impression of your home. Hiring our pressure washing contractors to clean your driveway can change that for you.
In addition, a dirty and stained driveway can have an immense effect on your ability to sell your home. If your home does not look presentable from the outside, prospective buyers and renters will avoid your property. Pressure washing your driveway and cleaning the rest of your home's exterior is a great way to increase the value of your property.
Let our team of professionals help you with all your exterior beautification needs. We are the local painting contractor and power washing specialist you can trust for expert results and complete satisfaction, whatever your project may be. From painting to exterior cleaning, we take pride in the work we do, and it shows in the results we achieve for our clients.
If you would like an estimate for driveway cleaning in Orlando or the surrounding areas, please call 407-218-0625 or complete our online request form.
Recent Articles
Preparation Is Key to Interior Painting Success - You have decided to conduct an interior painting project. You know what colors and paints you want to use. All that is left is to apply the paint to the walls, and the effort will be a resounding success. Many Orlando property owners have suffered from the same misconception. … Read More
How to Choose the Best Paint & Colors for Your Exterior Painting Project - When you paint the outside of your Orlando home, you want the results to look as good as possible and to last for a long time. Nothing is worse than having to repaint your home because you are disappointed with the end results, except for maybe having to redo the project because the paint faded, chipped, or peeled prematurely. The best way to avoid these pitfalls is to hire a professional painting contractor for help. … Read More