Whole Home Exterior Cleaning from House Washing Pros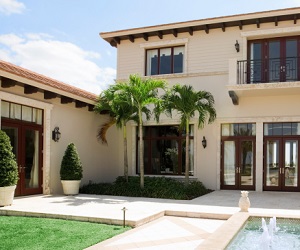 Keeping the exterior of your home looking its best is a difficult task. Your property is constantly exposed to the elements; therefore, it is constantly getting dirty. At A Painter's Touch, LLC, our pressure washing contractors provide whole home exterior cleaning services to our customers. When you let us take care of your need for house washing in Orlando, you can expect superior quality results.
Our professionals know how important your property is to you and your family. We are honored that you would consider us to help you take care of it. Our Orlando house washing contractors will honor this trust by working our hardest to provide you with the highest quality services possible.
Call A Painter's Touch, LLC today if you want to hire a professional pressure washing contractor to clean every exterior surface of your Orlando home. Our courteous and polite staff would be happy to assist you in any way that we can. Our experts can answer any and all of your questions. We can schedule your appointment today.
House Washing & Cleaning Exterior Siding
Our pressure washing experts can clean any stain from any type of exterior siding material. From vinyl siding to brick and stucco, our team can handle it all. In every instance, we will customize our cleaning method and chemicals to achieve the best possible results. After our efforts, your home will look stunningly better. As always, your complete and total satisfaction is our first priority.
Wood Deck & Fence Power Washing in Orlando
The wooden features around your home, such as your deck or privacy fence, greatly complement the look of your property when they are properly maintained. When they become old and dirty, this benefit is severely negated. Instead of simply tolerating unsightly wooden fixtures or, even worse, replacing them, you should consider cleaning them.
At A Painter's Touch, our Orlando pressure washing contractors can help breathe new life into your wood deck or privacy fence. We can expertly clean each of these fixtures for you. In the end, you and your family will once again be able to take full enjoyment of your deck area and yard.
Whole House Washing in Orlando Customized to Your Needs
In every service that we provide, our painting contractors and exterior cleaning professionals are constantly striving to achieve all of our client's unique goals. When you hire us to clean the exterior of your property, we will customize all of our efforts to your specific needs. By doing so, we can provide you with the best possible services and the highest quality results. You will always know who to trust with your future property cleaning needs.
If you would like an estimate for house washing in Orlando or the surrounding areas, please call 407-218-0625 or complete our online request form.
Recent Articles
Preparation Is Key to Interior Painting Success - You have decided to conduct an interior painting project. You know what colors and paints you want to use. All that is left is to apply the paint to the walls, and the effort will be a resounding success. Many Orlando property owners have suffered from the same misconception. … Read More
How to Choose the Best Paint & Colors for Your Exterior Painting Project - When you paint the outside of your Orlando home, you want the results to look as good as possible and to last for a long time. Nothing is worse than having to repaint your home because you are disappointed with the end results, except for maybe having to redo the project because the paint faded, chipped, or peeled prematurely. The best way to avoid these pitfalls is to hire a professional painting contractor for help. … Read More