Highly Skilled Painting Contractors in Oveido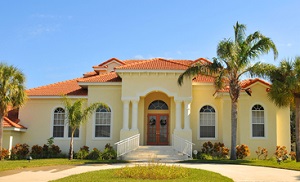 At A Painter's Touch, LLC, our Oveido painting contractors have made it their mission to provide the highest quality property beautification service in the area. We proudly serve both commercial and residential clients. Our team is adept at both interior and exterior painting services as well as pressure washing.
When you hire our professionals, you are choosing the best painters for the task. We are honored by the fact that our customers put their properties in our hands. We honor this trust by treating our services as if we are performing them on our own homes. By doing so, our painters can guarantee the best possible results.
Call A Painter's Touch, LLC today if you want to hire a professional painting contractor in Oveido, FL. Our courteous staff is ready to assist you in any way that we can. Our painting experts will gladly answer any questions that you may have about your prospective project or our exceptionally performed services. We can set up your consultation today.
Oveido Exterior Painting Services
In order for you and your family to enjoy your home to the utmost, you must be able to take pride in its appearance. If your paint is chipping and peeling, every time you look at your home you are reminded of tasks that you need to conduct. Our house painters in Oveido are here to put this unsightly frustration out of your mind and to revitalize the beauty of your home.
We can guide you through the entire process of exterior painting in Oveido, FL. All you need to do is tell us what you want your property to look like, and we can handle the rest. Our painting efforts will be focused on achieving your unique vision and ensuring that your home's restored beauty stands the test of time.
Oveido Pressure Washing Services
In between exterior painting projects, you need to keep the outside of your home clean and well maintained. Nothing detracts more from the appearance of a property more than dirt, mildew, oil, and rust stains. Our Oveido pressure washing contractors can clean every surface of your property's exterior.
We can breathe new life into your driveway, walkways, porch, patio, deck, siding, and fence. You and your family will love the restored beauty of your home after our pressure washing services.
Interior Painting in Oveido
When you paint the rooms within your home, you have the opportunity to express your family's unique identity throughout your living spaces. As such, interior painting projects can be extremely fun and fantastically rewarding. With the help of our Oveido experts, you can guarantee that you make the most remarkable changes to your property.
If you are looking for a professional Oveido painting contractor then please call 407-218-0625 or complete our online request form.