Patio Cleaning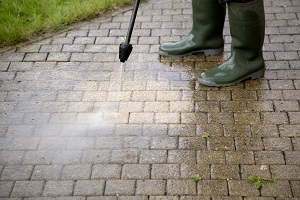 The patio of your home is a fantastic luxury. It provides the perfect area for you and your family to relax and enjoy the beautiful weather. In order for you to get the most out of your patio, it is important for you to keep it clean. At A Painter's Touch, LLC, our pressure washing contractors can help you with patio cleaning in Orlando and the surrounding areas.
Our exterior cleaning professionals are honored by the fact that you are considering us to care for your property. We understand how important your home is to you and your family. We want you to know that we will work our hardest to provide you with the highest quality services possible. In the end, our goal is to form long-term and mutually beneficial relationships with all of our customers.
If you want to hire a painting contractor or pressure washing contractor who will bring this dedication to excellence to task for you, call A Painter's Touch today. We will be able to exquisitely clean the entirety of your patio. Our polite staff would be happy to schedule your appointment today.
Skilled Pressure Washing Contractors in Orlando
The best way to clean your patio is via a pressure washer. Concrete is notorious for getting dirty then being extremely difficult to clean. Because concrete is porous, biogrowth, dirt, rust, and other stains can embed deep within the surface. Most conventional methods are simply ineffective against years of patio staining.
Pressure washing uses high pressure jets of water in order to blast away years of unwanted surface contaminants. In the hands of our extremely experienced property cleaners, there is no stain that cannot be lifted from the surface of your patio. After our efforts, your outdoor areas will look absolutely stunning.
Exceptionally High Quality Patio Cleaning in Orlando
When your hire our Orlando pressure washing contractors to clean your patio, you are making the best possible choice for your property. We will not cut corners during our effort. Our objective is to clean your patio in the best possible manner.
In order to do so, our team will customize the pressure setting and cleaning agents that we will use based on the particular stains that are present. Our meticulous method will ensure that we do not leave streaks behind on your concrete surface.
In the end, you are guaranteed to be completely satisfied with the revitalized look and beauty of your patio. You and your family will once again be able to enjoy the area to the utmost.
If you would like an estimate for patio cleaning in Orlando or the surrounding areas, please call 407-218-0625 or complete our online request form.
Recent Articles
Preparation Is Key to Interior Painting Success - You have decided to conduct an interior painting project. You know what colors and paints you want to use. All that is left is to apply the paint to the walls, and the effort will be a resounding success. Many Orlando property owners have suffered from the same misconception. … Read More
How to Choose the Best Paint & Colors for Your Exterior Painting Project - When you paint the outside of your Orlando home, you want the results to look as good as possible and to last for a long time. Nothing is worse than having to repaint your home because you are disappointed with the end results, except for maybe having to redo the project because the paint faded, chipped, or peeled prematurely. The best way to avoid these pitfalls is to hire a professional painting contractor for help. … Read More