Popcorn Ceiling Removal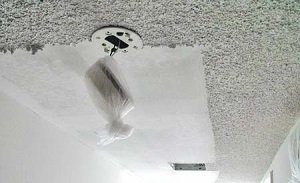 One of the most common complaints about the look of a property's interior is popcorn ceilings. Although these features were ubiquitous in the past, they have become outdated and unsightly. At A Painter's Touch, LLC, our painting contractors can help you remove unwanted popcorn ceilings form your home. We are the local experts for popcorn ceiling removal in Orlando.
We are humbled by the fact that you would consider trusting us to perform services in your home. Our painting contractors will always work their hardest to honor your trust by providing you with the highest quality services possible. we will bring our dedication to excellence to your project in an effort to achieve your complete and total satisfaction.
If you want to remove popcorn ceilings from your Orlando home, call A Painter's Touch, LLC today. Our polite staff is ready to assist you in any way that we can. Our knowledgeable experts can answer any of your questions. Our team can schedule your appointment today.
Removing Popcorn Ceilings is Extremely Difficult
Some people do not appreciate how difficult it is to remove popcorn ceilings on their own. First you must prepare the area because the effort creates an immense mess. Then you must wet the ceiling in order loosen it up.
Only then can you mount a ladder and begin to arduously scrape the unwanted feature from your ceilings. All the while, it will cascade down upon your floor. Once you think you are finished, you have to clean up the entire area.
Our Professionals Will Handle the Entire Effort for You
When you hire our painting contractors for popcorn ceiling removal in Orlando or nearby, we will be able to handle the entire effort for you. You will not have to conduct any of the above mentioned laborious tasks. Instead, you can simply sit back and relax while your residence is made to look exactly how you want it to. Your complete satisfaction is guaranteed.
Professional Popcorn Ceiling Removal in Orlando
Our Orlando painting contractors are above and beyond the best team to hire for your popcorn ceiling project. Once the unsightly feature has been removed from your home, you will need to address the bare ceiling. Generally this means that you will need to repaint the area.
Because interior painting is our specialty, our professionals can help you achieve all of your aesthetic goals after your popcorn ceiling is removed. As always, our team will customize all of our dry wall and painting services specifically to you. In this way, we can ensure that you and your family will love the results for the long term.
If you would like an estimate for popcorn ceiling removal in Orlando or the surrounding areas, please call 407-218-0625 or complete our online request form.
Recent Articles
Preparation Is Key to Interior Painting Success - You have decided to conduct an interior painting project. You know what colors and paints you want to use. All that is left is to apply the paint to the walls, and the effort will be a resounding success. Many Orlando property owners have suffered from the same misconception. … Read More
How to Choose the Best Paint & Colors for Your Exterior Painting Project - When you paint the outside of your Orlando home, you want the results to look as good as possible and to last for a long time. Nothing is worse than having to repaint your home because you are disappointed with the end results, except for maybe having to redo the project because the paint faded, chipped, or peeled prematurely. The best way to avoid these pitfalls is to hire a professional painting contractor for help. … Read More