Deland's Leading Painting Contractor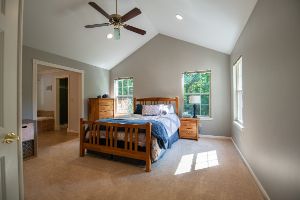 A Painter's Touch is a name you probably already know if you've done any research on local options for professional painting contractors or pressure washing services in Deland. Homeowners in our area already trust us with their painting and exterior cleaning services because we're the reliable team that's been taking care of all of their needs for a while now. Beautiful paint and keeping the outside of your home clean is about more than looking good, although that matters too. The work we do helps with protecting the materials your home is made of and ensuring your curb appeal stays boosted year round!
Exceptional Interior Painting For Deland Homes
Interior painting is a task best left to an expert painting contractor, and at A Painter's Touch, we take extraordinary care to make sure your vision lines up exactly with our hard work. Our coordinated professional painters can help you with painting any surface inside your home, including:
Walls
Ceilings
Floors
Doors
Window trims
And more
You can rest assured that we're not happy unless our customers are happy. Our reputation as the premier interior painting company in Deland that you can trust is built on long-lasting relationships with our clients that rely on us to get the job done right every time. We aim to exceed all expectations with qualified hard work and attention to detail. If you're a homeowner in Deland, you know that nobody does interior painting better than A Painter's Touch.
We Are Deland's Choice For Exterior Painting
Apart from making your home look great, exterior painting is also a fantastic way to protect your home's exterior surfaces. If the paint that's already on your house has been there for a while, chances are it's endured a lot of abuse over the years. When older paint is exposed to moisture and other exterior elements, it can cause swelling and cracking to occur. This, in turn, can lead to mildew, and mildew can quickly spread across your home and cause rot. The professional painting contractors at A Painter's Touch will thoroughly examine and prepare your home prior to painting and alert you of any potential damages that may already exist. This will allow you to proceed with the proper repairs and save your home from expensive renovations down the line. An exterior paint job from our painting contractors will shield your home from heat, rain, and insects for years to come.
If you are looking for a professional Deland painting contractor then please call 407-218-0625 or complete our online request form.