Green Exterior Painting in Lakeland, FL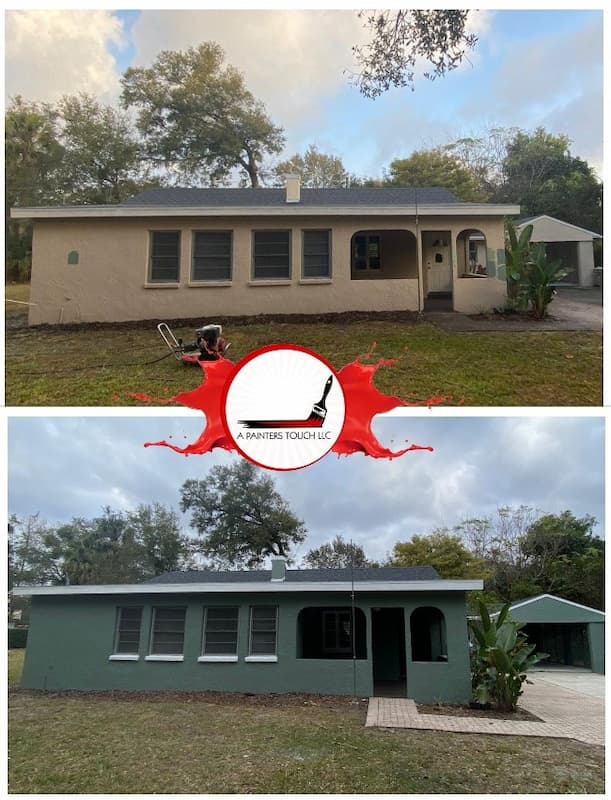 Central Florida's highest rated painting company: A Painters Touch LLC ! With focus on quality products and 100% customer satisfaction, our professional painting crews never fail to deliver a beautiful and long lasting paint job. Our painting pros love how this project turned out. Following a thorough pressure washing, included in our painting service is a sealing of all cracks with an elastomeric caulking that flexes with your home's settling to provide long lasting protection from moisture intrusion. Our crew paints solid finishes with straight, crisp lines that truly accentuate the style of this home. The new color scheme really complements the exterior style of this lovely home. It is important to consider when changing a home from a lighter color to a darker color, extra coats of paint may be needed to ensure full coverage and full color saturation. In this project, the extra coats were very much worth it! Furthermore, an application of Sherwin Williams' Loxon Masonry Conditioner and Sealer prior to painting ensures excellent adhesion and color retention while further protecting the home from water intrusion and UV light fading for years. This gorgeous dark green hue truly fits the home, and the homeowner's could not be happier with the results! Painting the detached garage the same color scheme as the home pulls the entire property together in a truly visually pleasing way. If you're interested in having your exterior beautified, contact us today for your free estimate at 407-218-0625 or complete our online request form for more info!
Location: Lakeland, FL
Services: Exterior Painting
Photos
Lakeland, FL
If you need a professional painting contractor for your project in Lakeland, please call 407-218-0625 or complete our online request form.