Bright Blue House In Orlando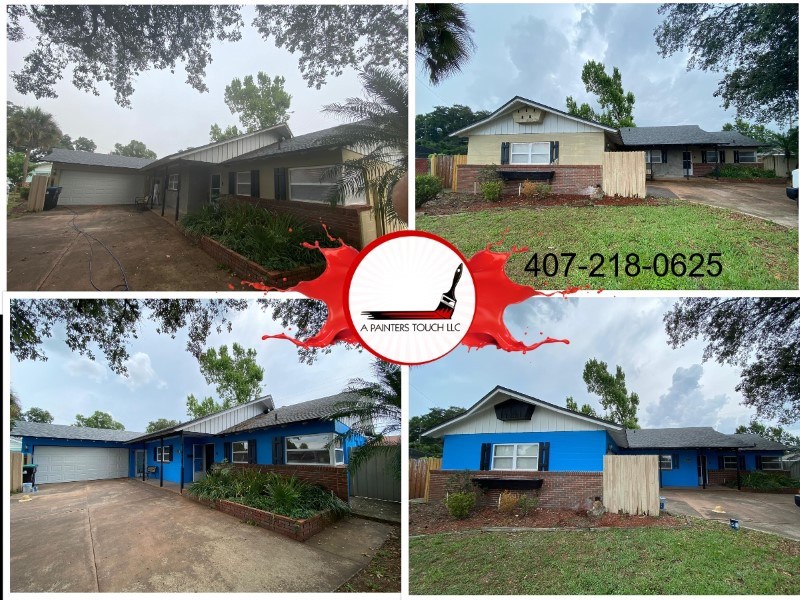 If you're looking to have your home painted, A Painters Touch LLC is the company that you can trust to produce beautiful results! Each of our professional painters have over 10 years of experience with painting, so you can know that your home will be painted with 100% satisfaction. We always apply two coats of high quality paint to all trim, soffits, fascia, and body walls. Exterior doors are also included in our exterior painting services. You can choose up to three colors for your exterior painting. We also meticulously inspect the exterior for any cracks and seal the cracks with an elastomeric caulking, which flexes and responds to your home settling. Check out our 5 star reviews all across the web on Google, Facebook, Yelp, and more, as well as our A+ rating with the Better Business bureau to see for yourself! This homeowner wanted their home to stand out with a gorgeous blue paint with dark trim. When compared to the previous tan and white color scheme, this house became a home with its personalized color. If you want a free estimate for painting your home, contact A Painters Touch LLC at 407-218-0625 or visit our website to put in an online request form or to see more projects we have completed.
Photos
Orlando, FL
If you need a professional painting contractor for your project in Orlando, please call 407-218-0625 or complete our online request form.