Pool Deck Paver Sealing in Orlando, FL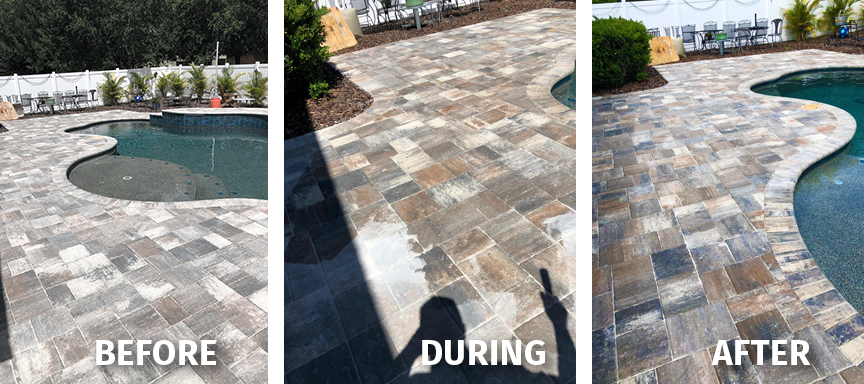 Here in Florida, many homes include pavers in their exterior décor. What exactly are pavers? They are stones used as an outdoor floor surface much like tiles.They provide a more personalized touch than a plain concrete patio or pool deck. However, they are susceptible to many types of damage and wear over time. Mildew, sun fading, and staining can tarnish the beautiful appearance of your home's pavers. Furthermore, the sand that holds them in place is not always secure enough to stand up to regular use. Over time, unsealed pavers can become dislodged and even pop out of place. When our Orlando painting contractors apply a sealer over the pavers and sand, the sand is held in place by the clear top coat which helps prevent movement of the sand and pavers. A sealant can also help prevent water from pooling underneath the pavers which can cause cracks and uneven surfaces. Plant growth between pavers creates extra labor in weeding your patio as well as providing an opportunity for weeds to disrupt the integrity of the surface. Sealing the pavers in your home's exterior can protect them from all of these issues. Applying a paver sealer to pavers also has the added benefit of providing a glossier, richer appearance on the surface that brings out the natural beauty and colors of the stone. It is generally recommended to re-seal pavers every 4-6 years depending on the wear. A Painter's Touch LLC offers the service of paver sealing with our experienced and professional team.
Product Used: H&C Clarishield Water Based Wet-Look Concrete Sealer
Pool Deck Paver Sealing in Orlando, FL Map
Orlando, FL
If you need a
pool deck paver sealing

contractor for your project, please call 407-218-0625 or complete our online request form.