Routine Pressure Washing Keeps Your Orlando Home Beautiful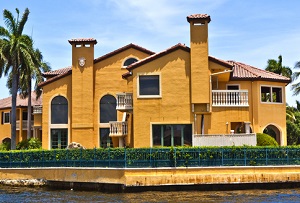 As a homeowner, you have an obligation to keep your property looking its best at all times. One of the most difficult tasks in this regard is cleaning all the different surfaces of your home. Keeping vinyl siding looking good is a completely different task than keeping concrete driveways and walkways looking good. The easiest way to clean every surface of your property is to hire a professional Orlando pressure washing contractor for help.
At A Painter's Touch, LLC, our painting contractors can assist you with any type of pressure washing work you need done - from docks to entire homes. We are available for one-time cleaning tasks as well as routine pressure washing services. With our help, you can sit back and relax knowing that every surface of your property's exterior will always be as clean as possible.
Call A Painter's Touch, LLC today if you need to hire a professional pressure washing contractor in Orlando. Our courteous and polite staff would be happy to assist you in any way that we can. Our knowledgeable experts can answer any of your questions about our exterior cleaning services. We can schedule your appointment today.
Driveway Pressure Washing in Orlando
The driveway of your home is the major walkway leading to your property. As such, it has a dramatic impact on the first impressions that your friends, family, and guests form about your house. Unfortunately, driveways are notoriously difficult to keep clean.
The concrete surface of your driveway is already permeable and porous. Coupled with the fact that your car is in the area, driveways can collect dirt, rust, oil, hydraulic fluid, and algae stains. All of these stains can be extremely difficult to lift.
At A Painter's Touch, LLC, our Orlando pressure washing contractors can easily blast away years of stains and grime from the surface of your driveway. You will be amazed by home much better your entire property looks after the effort.
Vinyl Siding Pressure Washing in Orlando
The method that our pressure washing contractors will use on your driveway is different than the method we will use on your vinyl siding. Because siding is more delicate than concrete, our team will lower the pressure setting of our device while also using cleaning agents specifically for the types of stains present on your siding.
In this way, we will simultaneously clean and protect the siding of your home. Afterwards, you property will look substantially better than it did before our efforts. You will always know who to trust with all your future property cleaning needs.
If you are looking for an expert for pressure washing in Orlando, FL then please call 407-218-0625 or complete our online request form.