Refreshing Light Blue and White Exterior in Orlando, FL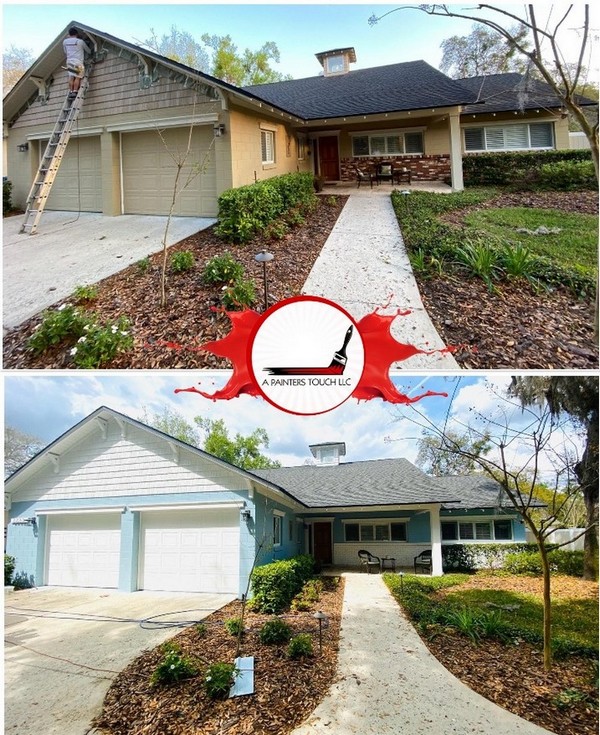 We love this refreshing paint job we recently completed on this home. From a tan and brown home to a light, airy light blue and white, this home went under quite a makeover. We even painted over the old brick pattern to a more modern white solid color. Painting over brick accents like this one requires extra care and high-quality paint in order to ensure that the finish looks beautiful and lasts. We always recommend applying a coat of Loxon Masonry Conditioner before painting, which helps the new paint adhere better to the old paint and last longer. Our professionals each have over 10 years of experience in painting, and our crew manager has over 30 years of experience! This means that with A Painters Touch, you will always get high-quality work done right the first time. This exterior paint job included painting the skylight, the brick, the siding, and the garage doors. The textured siding above the garage is really unique and looks great in white. If your home needs a refresh, make sure to call A Painters Touch for your free estimate! Call 407-218-0625, OR visit our website to see other projects and put in an online request form.
Brand Used: Loxon Masonry Conditioner
Exterior Painting
Exterior House painting
Exterior Painting Services
Painting Contractor
Photos
Recent Articles on Exterior Painting
When you paint the outside of your Orlando home, you want the results to look as good as possible and to last for a long time. Nothing is worse than having to repaint your home because you are disappointed with the end results…
Orlando, FL
If you need a professional Orlando exterior painting contractor for your project, please call 407-218-0625 or complete our online request form.