Keep Your Orlando Home's Roof Looking Great with Our Roof Cleaning Services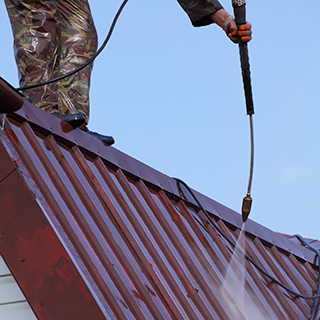 Your roof is one of your Orlando home's largest and most important components. It provides protection for you and your loved ones, while also helping to increase your home's resale value and curb appeal. So, you'll want to keep your roof looking great and standing strong through the years. And you can provide that kind of protection for your roof by calling your Orlando softwashing pros for our roof-cleaning services. We'll work quickly yet thoroughly to ensure that your roof looks its best. And with routine roof cleanings, you can continue to fully enjoy all the great benefits that this service can provide. To learn what those benefits are, just continue reading. With our thorough roof-cleaning services provided through the years, you'll enjoy some great financial and practical benefits that help your Orlando home for years to come:
Extend the Lifespan of Your Orlando Roof with Regular Cleanings
Inevitably, at some point down the road, your Orlando home's roof will need to be replaced. That time may be in 10 years, it may be in upwards of 50 years or more. But no matter how long your roof will stand, one thing is for sure: The cost of replacing it is often very expensive -- and something you'll want to put off as long as you can. To put off your roofing repair needs, you need to call our softwashing team for routine roof washing services. These services will remove damaging buildups from your roof, helping to keep your roof standing strong for as long as can be. If you want to put off the expense of a roof replacement for as long as possible, then you can't go wrong with routine roof cleanings.
Softwashing Services to Make Your Orlando Home Sparkle without Damaging It
We can use our softwashing service to clean more than just your Orlando home's roof: We can actually use this service to clean the entire exterior of your home. And you'll certainly be happy with the results that softwashing cleaning
services
can offer. After all, a softwashing can clean your home every bit as thoroughly as a pressure washing can. However, because of its lower-pressure function, a softwashing won't cause any damages in the process. To get your Orlando home looking its absolute best, call
A Painters Touch
for our top-rated softwashing services today.
If you would like an estimate for roof cleaning in Orlando or the surrounding areas, please call 407-218-0625 or complete our online request form.
Recent Articles
Preparation Is Key to Interior Painting Success - You have decided to conduct an interior painting project. You know what colors and paints you want to use. All that is left is to apply the paint to the walls, and the effort will be a resounding success. Many Orlando property owners have suffered from the same misconception. … Read More
How to Choose the Best Paint & Colors for Your Exterior Painting Project - When you paint the outside of your Orlando home, you want the results to look as good as possible and to last for a long time. Nothing is worse than having to repaint your home because you are disappointed with the end results, except for maybe having to redo the project because the paint faded, chipped, or peeled prematurely. The best way to avoid these pitfalls is to hire a professional painting contractor for help. … Read More